'I expected antibiotics but life turned upside-down'
by alice.ryan@cambridge-news.co.uk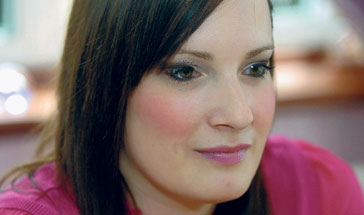 Features - Robyne Toseland.
LYING in intensive care, her heart hammering and her chest tight, Robyne Toseland was in total shock.
Less than an hour earlier, the 22-year-old had called the doctor, thinking she had some kind of infection, a virus maybe . . .
Now she was in a hospital bed, wired up to all kinds of bleeping machines. And she'd just been diagnosed with a deadly blood clot.
"I was just like: 'Oh my god! Oh my GOD!'" says Robyne. "I remember crying and saying: 'But I'm fine, honestly. There's nothing wrong with me.' They told me I had a pulmonary embolism and I didn't even know what that was.
"I was taken into intensive care and it was so frightening. I had heart monitors on and everything and they kept beeping – it was like being in an episode of Casualty or something.
"The doctor kept telling me that I was very, very poorly, but it didn't sink in. In fact, it didn't sink in for a long, long time."
To meet Robyne now – a bright and bubbly newlywed, who's planning to train as a nurse – it's scary to think she was once so ill. But, as the Impington girl explains, while she may seem happy and healthy on the surface, underneath she is still in turmoil.
"Even now, a year and a half later, it is always on my mind," admits Robyne. "I must have phoned the doctor a million times, afraid I had another clot.
"I think about it every minute of every day, to be honest, and that's not a nice way to live your life.
"I still have some symptoms: my heart rate races and I struggle with certain things, like climbing a flight of stairs. I was warned that it would take a long time to recover, but I didn't really believe it.
"I didn't decide to tell my story because I want people to feel sorry for me, to read it and think: 'That's really sad.' I decided to tell it because I want to raise awareness of blood clots and the impact they can have: I didn't even know what a pulmonary embolism was – and it's turned my entire life upside-down."
Robyne started to feel unwell in the January of 2008. At the time, she was in her final year of teacher training at the University of East Anglia, Norwich.
"There was this little hill, hardly a hill at all, really, which we had to walk up at uni," she explains. "Whenever we walked up it, I got so short of breath I couldn't talk to my friends; over time, that got worse and worse and worse. I didn't think much of it, other than thinking I was seriously unfit."
By the February, Robyne was struggling to cope with the pressures of her course. Despite having dreamed of becoming a teacher all her life, she decided to quit – with just six months until graduation.
"This sounds weird, but it was like I knew, deep down, something was wrong," explains Robyne. "I came home one day really upset, saying I just couldn't do it any more."
Robyne then started job-hunting. And, still convinced she was seriously unfit, she took up trampolining with a friend.
"We'd been a couple of times and I was really enjoying it," says Robyne. "Then, this one night in March, I only jumped up and down a couple of times and I felt like I couldn't breathe.
"Normally I laugh things off, rather than telling people how I actually feel. But I thought I was going to faint; I said I had to stop, had to get off . . ."
Sitting on the floor, Robyne remembers her eyesight being blurry and feeling as if she was about to black out. Yet, after a few minutes' rest, she recovered – and got back on the trampoline.
When she got home that night, Robyne confided in her then fiancé, Carl, now her husband. "I said to Carl: 'What's wrong with me? Why won't my body allow me to do anything?'
"On the Friday, I got out of bed, walked down the stairs and literally couldn't breathe. It felt like I had a mountain of bricks on my chest. Or as if someone was holding a plastic bag over my mouth and I was trying to breathe through it.
"I actually wasn't scared. People are amazed when I say that, but I didn't think it was anything particularly serious. I must be so thick!
"I spent the day lying on the sofa feeling a bit sorry for myself, but I thought it was an infection or something – something that would just clear up."
By the Saturday, Robyne's symptoms hadn't improved. In fact, they had got far worse: she couldn't even move her arm without her heart racing.
Her mum, dad and Carl all said Robyne should see a doctor. But, not wanting to make a fuss, she said an early night was all she needed. Next morning, her symptoms had again got worse – and her mum insisted she call Camdoc, the out-of-hours service.
Advised to come down to the clinic, Robyne was then assessed by a duty doctor. Suspecting a pulmonary embolism – a potentially fatal blood clot in the lungs, lodged in an artery – the doctor called an ambulance.
"I thought I'd be going home with some antibiotics and instead I was being taken to Addenbrooke's," remembers Robyne, with a shudder. "I was in shock; it was all a blur."
Given "millions of tests" in A and E, Robyne's embolism was confirmed. In fact, scans showed multiple blood clots in her lungs – numerous small clots and one huge one, lodged in her pulmonary artery.
Affecting the blood flow to her heart, that big clot could have killed Robyne. But, at the time, she didn't believe she was so terribly ill. "They put me on oxygen which made me feel better straight away," she explains. "And, as long as I wasn't moving, I felt fine."
Moved to intensive care, Robyne admits it was touch and go for a while. Doctors prescribed total bed rest (she wasn't even allowed to walk to the toilet) and two anti-clotting drugs.
The medics couldn't, adds Robyne, explain why she had developed the clots in the first place. She was not in a high-risk category – being young, otherwise fit and healthy and having no genetic predisposition. But doctors did suggest one possible cause: the contraceptive pill.
"I went on it when I was 17, when Carl and I got together," explains Robyne. "Just like most girls my age, I didn't think much about it. I'd been taking it for six years. The fact it could have caused all this is really, really scary."
After seven days in hospital, Robyne was allowed to go home – just in time for her 23rd birthday. Scans proved the small clots had dispersed, and the large clot had diminished. But doctors warned Robyne her body, in particular her heart, had been put under enormous strain and it would take a long time for her to recover.
Determined to get back to normal, Robyne threw herself into planning her wedding to Carl: after a four-year engagement, they had booked their wedding for Valentine's Day this year.
"There was no way I was going to cancel it," she adds. "After all that negativity, I needed something positive to work towards. And I'd always wanted to get married on Valentine's Day – because I love hearts and everything pink and sparkly! It was a very pink and sparkly day."
The wedding was, continues Robyne, a real high point. But she says there have also been plenty of lows over the last year and a half.
"I've been impossible to live with," she says. "I couldn't have coped without the support from my friends, family and my doctor, who's been amazing.
"I think I'll always be worried about the clots coming back. And I beat myself up because I'm still not back to normal – physically or emotionally."
Robyne is still taking anti-clotting medication and expects to be on it for the rest of her life.
Her heart has been left enlarged; doctors are currently investigating. And she is still unable to work or study, suffering with both breathlessness and a racing pulse.
Robyne says people sometimes stare at her when she struggles to climb a flight of stairs in a shop or a pub. She says others, even friends, cross the road to avoid talking to her, afraid, she suspects, of saying the wrong thing.
Robyne would also like to have a family – but knows pregnancy increases the risk of blood clots.
"Life isn't back to normal," admits Robyne. "But, in a weird way, I don't regret this experience. It's made me appreciate life a lot more. It's made me realise that Carl must really, really love me, to have supported me through all this. And it's inspired me to train as a nurse – I'm hoping to start next year.
"I know, from my own experience, that life can be tough. But I would advise everyone to take each day as it comes, try to stay positive and keep on smiling. You have to smile, don't you?"
The article can be found at http://www.cambridge-news.co.uk/cn_news_features/DisplayArticle.asp?ID=434384[u]